Turn Service Design Ideas into Action using the Service Design Scorecard System
Q: How can leaders facilitate stakeholders to identify and prioritize ideas, and be confident in their chosen direction?
A: The Moment Service Design Scorecard System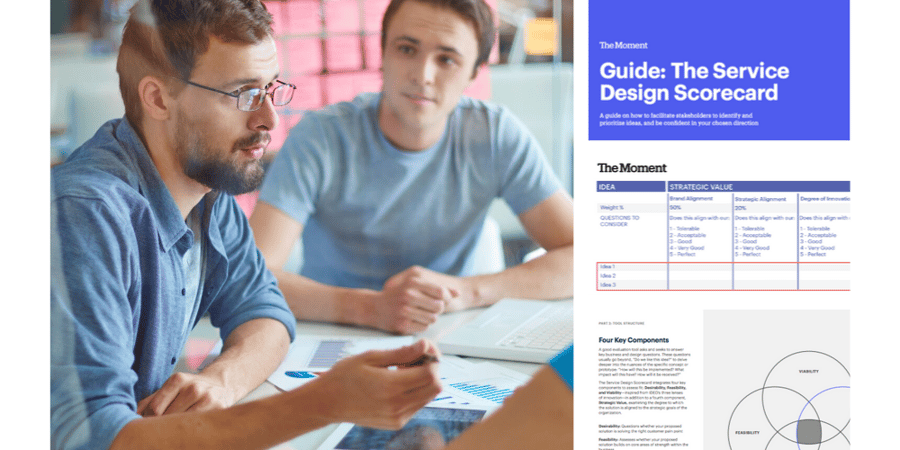 Here's what you'll get:
A Guide to lead group discussions based on design and business needs; not personal opinions
An Excel worksheet with instructions and built-in formulas (link to download in the Guide)
A 5-step process to involve designers and stakeholders with differing interests
A decision-making framework to have confidence in your chosen path to action
A process to evaluate and prioritize two different project types: service design concepts and prototypes
The Scorecard was originally introduced in Touchpoint, The Service Design Network's magazine
in August 2018 (vol 10 no. 1.)
What Chris from CIBC had to say.
"You've had such an impact on our journey in building a Service Design practice here at CIBC. You've been amazing coaches, helping us find our way. I feel like you guys are just part of the family which is a testament to the quality of the partnership you've helped establish….in short, you're an 11 out of 10 on the awesome scale! I can't thank you all enough for the support you've provided us over the past year!"
Chris Reid, Senior Director,
Process Management & Capability Planning
CIBC
The Scorecard in action
We made the Service Design Scorecard to use with our clients. It has been tested with real teams in multiple industries, including telecom, banking, insurance, healthcare, not-for-profit, and the public sector. It works really well.

We're sharing this resource with you for 2 reasons:
This tool is published as an article in the Service Design Network publication Touchpoint, and we wanted to also make it available to friends of The Moment.
As we continue to collaborate on new tools and methods to advance the practice of service design and innovation, we would love to hear how you are using this and any similar tools in your projects. Send us your feedback in exchange for access to other tools and resources.
A Scorecard Case Study
We recently worked on a service design project with a client in the banking industry, working to build a sales experience that both delighted customers and met existing business needs. We did this through research insights and co-creation sessions where we spoke directly to our client's customers. It gave us (many!) amazing ideas and directions to test out.

After low-fidelity prototypes and analyzing opportunities and learnings, our joined-up team presented eight concepts to the client's larger stakeholder group from across the business. We used the Service Design Scorecard to evaluate and discuss each concept, and prioritize the next phase of the project.

As a result of the Scorecard, we effectively centred the discussion around the needs of the business and the design, leaving personal opinions and judgments out of it. We consistently use this with clients and find it an immensely useful tool, and one that easily allows us to facilitate productive conversations in a group of diverse stakeholders.

Try it out, let us know what you think.
innovation designer
Simon Mhanna
Simon Mhanna created the Service Design Scorecard system at The Moment, an Innovation Design Studio in Toronto, Canada.
He developed the Scorecard as a way for teams to help prioritize and structure decision making within complex, multi-stakeholder service design engagements.
For questions about the Scorecard, or to provide feedback (we'd love to know how you're using it!) please email Simon (simon@themoment.is)
Email Simon